Who We Are
8th Dimension's owners are longtime comics and gaming fans. Since we opened in 2011, our goal has been to create the comics and gaming store of our dreams – a fun, welcoming environment for everyone from lifelong fans to anyone who's just curious about all this cool stuff and wants to learn more.
What We Do
We carry a diverse selection of comics and games, including an all-ages section with plenty of books for younger readers. Our dedicated game room is available for customers to use, and we host frequent special events and organized play for a variety of games including D&D Adventurers League, Magic: The Gathering, Pathfinder Society, and more. Browse our Event Calendar for the latest news.
If you have any questions, please call us or email info@8thdimensioncomics.com.
Some of the products and services we offer: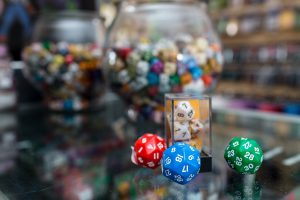 New weekly comic book issues – new every Wednesday! – and a free comic subscription service
A huge selection of trade paperbacks and graphic novels
An extensive collection of vintage comic book back-issues
Tabletop games, including board and card games and RPGs
Gaming accessories including dice, miniatures, play mats, hex maps, etc.
Posters
Comic and card preservation and storage supplies (bags, boards, boxes, card sleeves, etc.)
Superhero, sci-fi, fantasy, and movie/TV-related books and magazines
…And more!
No matter what your pop culture interests are, we probably have something that you think is cool.
We were all newbies once, and we want to help you find a book or a game that you'll love. Check us out and see if we're the shop you've been dreaming of too.
FAQ
Here at 8th Dimension, we are always happy to answer any questions our customers may have for us. For your convenience, here are answers to our most frequently asked questions!
Q: What are your business hours?
A. We open at 10:00 AM Monday-Saturday and 11:00 AM on Sunday. Most nights we close at 8:00 PM, but we close at 9:00 PM on Wednesdays and Fridays, and 7:00 PM on Sundays.
Q: Do you buy comics?
A: We do purchase comic collections occasionally. Currently, we are only looking for books from the 1960s or earlier, in good condition, with a cover price of 12¢ or less. However, we are happy to look at any collection and evaluate its contents.
Q: Do you buy toys?
A: We are willing to look at any loose or carded/boxed toys. In many cases, we are most likely to offer store credit for items we're interested in, but we may offer cash for high-demand items in good condition, such as Generation 1 Transformers, 1980s GI Joes, etc.
Q: Do you buy or sell single cards for Pokemon, Magic, etc.?
A: We do not buy cards, and we do not sell single cards – only booster packs, etc.
Q: Do you have organized play for [Game]?
A: The best way to see what organized play we have is by checking the Event Calendar. If you don't see your favorite game on the schedule, feel free to contact us about securing the game room for your own event. See the Games page for more details.
Q: I've never read comics/played games, but they sound cool and think I might like them. Will you make fun of me for not knowing everything about comics/games?
A: Absolutely not! We were all newbies once. As Wil Wheaton once said about the greatness of geekiness, "Find the thing that you love, and love it the most that you can." Our staff gets excited about helping new fans find things they're going to love. Our goal is to maintain a fun, welcoming environment for everyone from lifelong fans to anyone who's just curious about all this cool stuff and wants to learn more.
Q: What's the best game/comic to get started with?
A: This question is far too vast for us to answer online, so please come into our store and talk to one of our employees. We're always happy to help you find a game or comic that you're sure to enjoy. No matter what your pop culture interests are, we probably have something that you'll think is cool.
It will help us recommend comics to you if you can tell us what some of your favorite books/movies/TV shows are, or what genres or types of characters you like.
For games, there are a lot of different types, so there are lots of questions to consider. Are you looking for a game that is competitive, or cooperative? How many players? Are any kids going to play, and if so, what ages? How long do you want to be playing a single game?
Q: Do you have a copy of [specific comic or game]?
A: Our collection is rather extensive, so we may have exactly what you are looking for. However, if it something we don't currently have in stock and is something we can order, we will gladly place a special order for you at no additional charge. Just speak with one of our employees in store to get started.